Serbia has connected West with East for centuries – a land in which civilisations, cultures, faiths, climates and landscapes meet and mingle.
Located in the centre of the Balkan Peninsula, in southeastern Europe, Serbia is acrossroads of Europe and a geopolitically important territory. The international roads and railway lines, which run through the country's river valleys, form the shortest link between Western Europe and the Middle East.
From the agricultural regions of the Pannonian Plain in the north, across the fertile river valleys and orchard-covered hills of Šumadija, the landscape of Serbia continues southward, gradually giving way to mountains rich in canyons, gorges and caves, as well as well-preserved forests.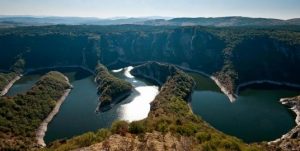 The cultural and historical heritage of Serbia begins with prehistoric archaeological sites and its legacy from classical antiquity. Perhaps its greatest riches, though, are in the many mediaeval Serbian churches and monasteries, some of which are included on the UNESCO World Heritage list.
Today, Serbia is a modern, democratic European country, on the path to membership of the European Union,  which a diverse range of visitors – from young backpackers to participants in congresses and fairs – visit every day.
http://www.serbia.travel/about-serbia.713.html
 Belgrade is the capital of Serbia and also capital of the Seriban culture, education, science and economy. City lies at the confluence of the Sava and Danube rivers. The area around two great rivers, has been inhabited as early as palaeolithic period.
Belgrade is one of the oldest cities in Europe, first settled in the 3rd century BC by the Celts and since ancient times it has been an important traffic focal point, an intersection of the roads of Eastern and Western Europe.
The name BELGRADE (meaning white city: beo - white, grad - city) is the Slavic version of its old Celtic name, Singidunum.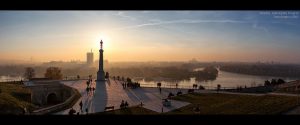 There are many things to see in Belgrade such as the Belgrade Fortress and the Kalemegdan Park, the main street and pedestrian zone - Knez Mihailova St., the famous bohemian quarter - Skadarlija, Ada Ciganlija - "Belgrade Sea", the Parliament, St. Mark's Church and the Tašmajdan park, the Church of St. Sava and Karadjordje's Park, the Old Palace, Royal Palace, White Palace (Assembly of the City of Belgrade) and many more impressive historical and tourist attractions from various historical periods, museums, cultural monuments of great importance or even Belgrade underground. The hilltop Avala Monument and Avala Tower offer views over the city.
Congress Venue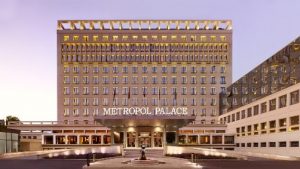 The Conference will take place at the Metropol Palace Hotel
http://www.metropolpalace.com/
Registration Form
Originally designed as the venue for a conference in 1960s, the hotel today blends the era's international architectural and interior style with contemporary luxury.
Metropol Palace's central setting next to the grand Tašmajdan park invites you to explore Belgrade's many monuments, palaces, theatres and museums all within a short stroll from the hotel.
ACCOMODATION
 As the congress takes place in the very center of the city, there are many possibilities for accommodation, both in hotels and hostels, apartments, guesthouses etc. Here are some of them:
Metropol Palace http://www.metropolpalace.com/
Zira Hotel http://www.zirahotels.com/
Registration form
Hotel ParkBeograd http://www.hotelparkbeograd.rs/
Hotel Prag http://www.hotelprag.rs/
Hotel Tash http://www.hoteltash.com/
Belgrade apartments:
https://belgrade-apartments.net/
CONGRESS SOCIAL PROGRAMME
 Beside Welcome reception coctail and Conference dinner provided for all participants, participants and their accompanying persons can participate in tours such as:
Belgrade sightseeing tour, ½ day
Post Congress tour: Vojvodina tour (Sremski Karlovci, Fruska Gora monasteries, Winery visit), 1 day
Vojvodina Tour
Slopes of Fruska Gora and Sremski Karlovci are significant places for Serbia's history, culture and national heritage. For number of visitors of Serbia these places are "a must", and there is a firm reason for each of them. For some it's a place of spirituality thanks to eighteen living monasteries, for others it's a region of wine with more than 60 wineries and for some it`s just a place of beautiful nature in National park of Fruska Gora. The Town of Sremski Karlovci combines all of it: history, religion, wine and beauty.
THE 4 TH IIW SOUTH-EAST EUROPEAN WELDING CONGRESS - SEEIIW2018 - Meropol Palace Belgrade(1)